Michael Strahl –
President
Michael Strahl is a resident of Commack, NY. He became vegan in 2016 just prior to going through the Vegan Living Program, a collaboration between Oeen the Cages and Molloy College where he now volunteers as a coach to help new vegans acclimate to being a vegan in a not-yet vegan world. Michael is the co-owner of Sweet Soul Bakery, a vegan/gluten-free bakery on Long Island with a mission to make veganism an easier lifestyle to adopt and thus increase the number of people who successfully become and remain vegan. Michael is the inventor of a product named ClipFix that fixes network cables in seconds and president of the company of the same name. He is the proud father of an 11 year old vegan daughter and an 8 year old son who is a vegan work in progress. He is the companion to an adorable 4 year old pug named Izzy.
KiKi Adami – Vice President
Kiki Adami is a programming and event management professional in the plant-based movement. Coming from 5 years of Cruise Directing where she managed a 2,500 person operation. She was responsible for all onboard operations, guest satisfaction experience and programming. In 2013, she retired from Maritime Hospitality to join the restaurant industry, where she managed to make a sinking restaurant profitable in under a year through rigorous FOH training and marketing shifts. In 2016 she launched a full service consulting company, Veganizer, which has successfully launched in 2 cities outside NYC and has worked with 45 restaurants world wide. She was the first person to host a vegan dinner with the esteemed James Beard Foundation and has been a key consultant on brand launches like Bareburger and Jajaja. She's been featured in Eater, NY Post, VegNews and half a dozen more. She is also the first person to convert an entire food chain to 100% plant-based. She's earned a strong following throughout the Plantbased community and is currently opening a 10,000 SF Plantbased food hall and co-working space in NYC. 
Denise Bertolotti – Treasurer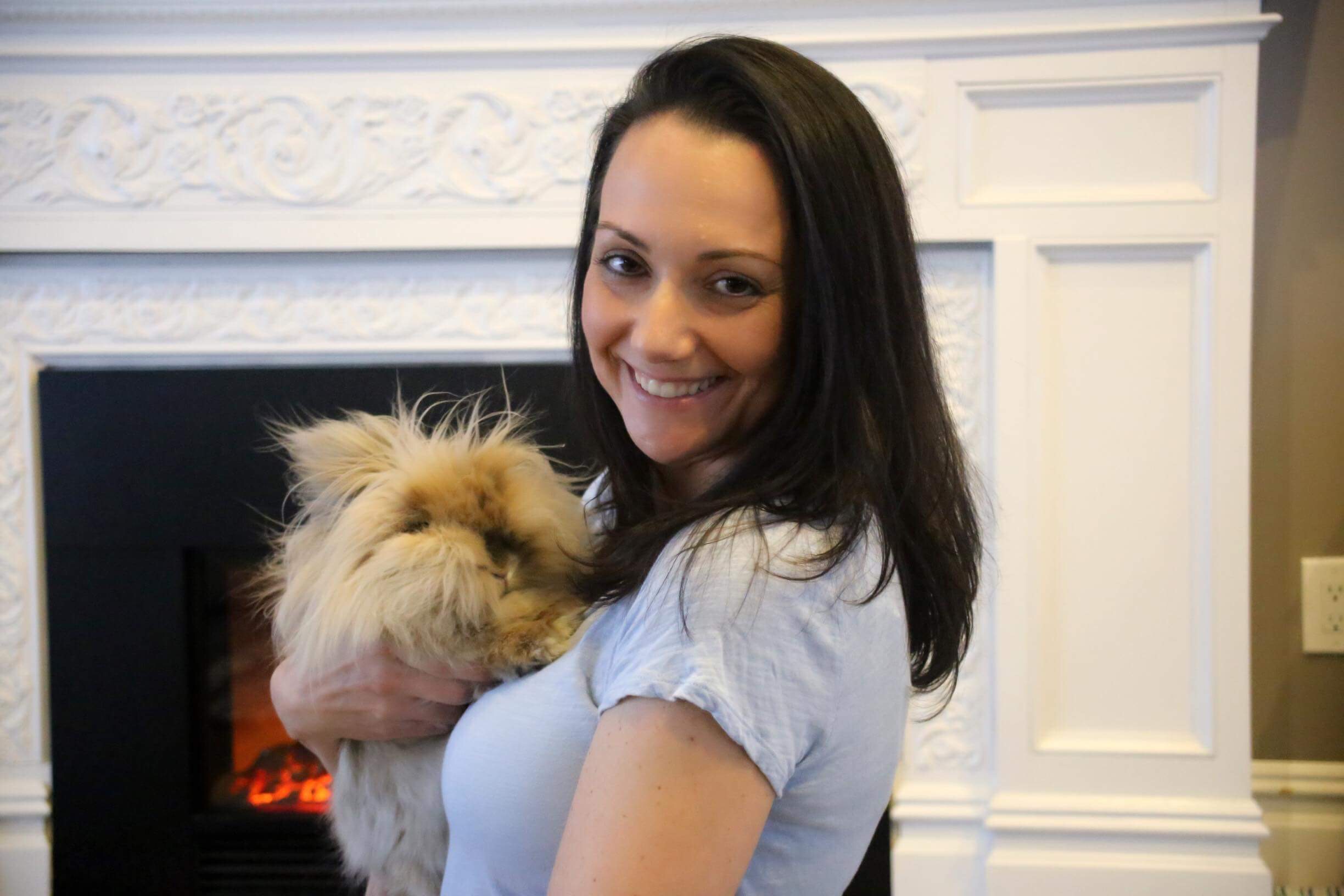 Denise is a teacher, animal rescuer, animal Reiki practitioner and wellness advocate and speaker.  Denise is the mother of 2 rabbits, Peanut and Tater Tot.  She found her purpose in life through them and proudly volunteers with the Long Island Rabbit Rescue Group.  As the group's Community Relations Coordinator, Denise has expanded the breadth of the Long Island Rabbit Rescue's work and has assembled an incredibly dedicated team to advocate for abandoned, neglected and abused domestic rabbits.  Denise is honored and excited to align her care for all beings with the Long Island Farm Sanctuary and its wonderful mission.
Emma Bonn – Secretary
A dedicated animal advocate and volunteer, Emma has devoted her life to helping animals in need. She knew her calling from childhood and will be attending Cornell University College of Veterinary Medicine starting in August of 2018. Emma graduated Summa Cum Laude from Cornell University, where she earned her Bachelor's Degree in Animal Science and Pre-Veterinary Studies. The many sheep and horses upstate promptly stole her heart. Born and raised on Long Island, she is passionate about our communities and performing trap-neuter-return in an effort to lessen the amount of homeless kittens born each year. Volunteering time as a veterinary assistant during low-cost wellness and spay/neuter clinics is central to her work week. Emma is a certified practitioner of level one reiki healing for animals. She believes in the principle of One Health, embracing the connection between human, animal, and environmental health. Between volunteering at local shelters, Emma bottle feeds orphaned kittens, works with feline leukemia positive cats, and local horse sanctuaries. Emma believes in compassionate action for all animals large and small.
Jon Stepanian – Board Member
Jon is the President & CEO of Community Solidarity the largest vegetarian hunger relief program in the United States. Sharing millions of pounds of vegetarian groceries, hot vegan meals and clothing with tens of thousands each month is only part of Jon's job description. The other part is creating long-term solutions to end poverty; namely by developing community inter-dependence, promoting a balanced nutritious diet and fighting for social justice.
Jon is also the Co-founder of Long Island Food Not Bombs, the community that gave birth to Community Solidarity and notably the largest Food Not Bombs chapter in the world! He has worked in advisory positions at the United Nations and the New York Civil Liberties Union. His commentary on issues of US Poverty can be found in publications like the Times Tribune, Change.org, CNN.com and the Huffington Post. It can also be heard at symposiums and forums across the tristate area where he advocates for grassroots problem solving over the mainstream nonprofit hierarchical models.
Recently, The Long Island Press has rank Jon as one of the 50 most influential people on Long Island. He was named one of News 12's "12 Making a Difference" for 2015, he received the "Deed Before Creed" award by the Ethical Humanist Society of Long Island and was awarded the 2013 Kairos Award by The Long Island Alliance for Peaceful Alternatives.