Harold A. Bollaci, Esq.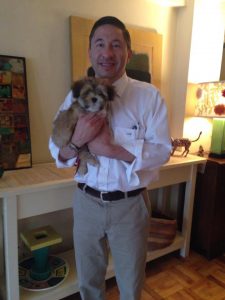 Harold A. Bollaci has been practicing law in Nassau County and New York City for over fifteen years. He specializes in elder law, estate planning, estate administration and estate litigation. He has been quoted in CNBC Online, U.S. News and World Report: Money, and Newsday. He is a frequent lecturer on estate planning.
Harold is also the Chief Executive Officer of The Vegg New York, LLC, the worlds number one purveyor and distributor of 100% plant based egg substitutes.
In addition to his professional endeavors, Harold is a Member of the Union League Club of New York. He serves on the Advisory Boards of the Anglosphere Society and the Counterterrorism Institute of New York. Harold was a Charter Member of the North Shore Rotary Club and is a member of St. John's of Lattingtown where he serves as a Lector. He also does volunteer work for the American Humane Association and Pa'Lante Harlem.
Originally from Locust Valley, New York, Harold currently lives in Glen Cove, New York with his husband Evan Bollaci and their dog Bernie.
Tiffany Attardo
Tiffany Attardo is Long Island Farm Sanctuary's Controller. Originally from New Jersey, Tiffany and her husband moved to Long Island in 2014. 
She has a Bachelor of Science Degree in Business Administration and a Master's Degree in Accountancy. As a Certified Public Accountant (CPA) and Certified Fraud Examiner (CFE), Tiffany has over ten years of 
experience in public accounting
 serving as an auditor to numerous nonprofit organizations. She also 
volunteers her time as
 the Secretary/Treasurer for the Long Island Association of Certified Fraud Examiners. 
Tiffany has recently begun a transition into a vegan lifestyle and 
has been on a mission to eliminate the use of products that are not cruelty-free. In her spare time, 
she enjoys couponing, gardening and spending time outside with her husband and two dogs.
Patrice Bracken
Patrice Bracken is Long Island Farm Sanctuary's Outside Certified Public Accountant. She has earned her reputation in the industry as a resolute, consummate professional. She has spent her 30 plus year career as both a senior staff CPA and as sole proprietor since graduating St. John's University in 1987.
Patrice is a member of the New York State Society of CPAs. Her client experience encompasses a wide array of industries including nonprofits.  Patrice is currently the treasurer for her local food pantry and she is excited about using her knowledge and skills to help Long Island Farm Sanctuary.